Are your buyers finding your LinkedIn Profile when doing a LinkedIn search for the products and services you sell? If not, no worries. We have 15 LinkedIn Profile optimization tips that will help you with optimizing your LinkedIn profile to get you found!
When deciding whether to work with a sales professional, 72% of modern buyers look for an informative and optimized LinkedIn profile before engaging them.
That can be a pretty scary thought if your personal brand is nonexistent and your LinkedIn summary sucks. What if someone is Googling you, finds your profile, and it's barely there. Or worse, your profile is never found. This is the kind of situation that should make people think about LinkedIn profile optimization.
The COI (Cost of Inaction) can cast your brand and cost you business!
To ensure these decision-makers find your profile, while doing LinkedIn prospecting, you must leverage the following LinkedIn SEO tips below.
These tips on optimizing your LinkedIn Profile will ensure that your profile meets current SEO best practices while addressing the business challenges facing your potential clients and buyers. After all, getting discovered by your prospective buyer during the research phase of the buyer's journey is one of the best ways to start a sales conversation.
Why You Need Optimization for Your LinkedIn Profile
When you hear "SEO" or "search engine optimization," you probably think about how well your website ranks on Google, as part of your digital marketing strategy. But SEO isn't just for your website anymore! In fact, once you know-how, it is much easier and much cheaper (free!) to be found on LinkedIn .
Identifying the right keywords and strategically including them in your profile, helps you appear in LinkedIn searches, as well as Google searches. Learn how leveraging keywords and keyphrases to be found by your buyers online extends to LinkedIn profiles, content and media.
Now, how to improve your LinkedIn profile?
The first step in optimizing your LinkedIn presence? Identify the keywords and phrases that your buyers use when searching for your products and services. @LinkedInExpert shows how. #LinkedInTips
Click To Tweet
Identifying the Right Keywords for Your LinkedIn Profile
The first step to optimize your profile and increase your visibility on LinkedIn, is to identify the keywords and phrases your buyers use when searching for your products and services on Google. The best place to start is with your marketing department. They should be able to supply a list of keywords they target.
If you're a solopreneur or your marketing department doesn't have a list of keywords, there are many tools you can use to identify the LinkedIn keywords important to you, such as Word Tracker.
Another trick to finding more keywords to boost the visibility of your profile is to check the profiles of colleagues and competitors. Look at the Skills section of their profile to see if they have any keywords that you hadn't thought of.
If they apply to you, don't just add them as skills. Add them throughout your profile to increase your SEO opportunities.
Now, where and how to add keywords to a LinkedIn profile?
LinkedIn Profile Optimization Tips
LinkedIn and Google have different algorithms for how content shows up in a search. LinkedIn looks at two things: how many times you use the words in your profile and how they rank based on the searcher's network.
Search results are unique to each person running the search as each network is unique to the individual. With this context, here are 15 areas to focus on to optimize your LinkedIn profile:
1. Connect with Relevant Prospects
What does connecting have to do with SEO? Because LinkedIn looks at how you are connected to the "searcher." Your profile is more likely to show up in a LinkedIn searcher's first page of results if you are first-level connections. So, connecting with prospects is key. (We cover best connecting strategies extensively in this article on "turning connections to conversations" .)
2. Name Your Profile Picture
Before uploading your profile picture, rename it to include the relevant keywords you identified.
When people search for those terms on Google, your LinkedIn photo is likely to show up, and this might drive traffic right back to your LinkedIn Profile! For example, my profile photo is labeled:
Viveka von Rosen, Social Selling Expert, LinkedIn Training, Digital Sales Training, LinkedIn Keynote Speaker
3. Label your Background Image
Just like your headshot, make sure you are renaming your banner or background image before you upload it to your profile – and include keywords. Make sure to include the two or three most important to you in both your headshot and banner image files.
4. Use Text in Your URL Link
LinkedIn recently added a place to include a link in your Intro section. If you go down to the very bottom of the intro section, after the contact information section, and you have LinkedIn Creator Mode turned on, you will see a place to add your link. Once you save it, go back in to the intro section and you will see that you now have a place to customize your url with text. Up to 30 characters.
5. Include Keywords and Phrases in Your Headline
Your LinkedIn headline should not be your job title! Instead, use the 220 characters allowed in your headline to speak to your audience. (You can now do this on your desktop or use LinkedIn Mobile app) Address who you help, what their challenge, struggle or point of pain is, and demonstrate how you help them. Include keywords and phrases about your area of specialization.
6. Emphasize Value in Your About Section
First and foremost, your LinkedIn profile About section (formerly called your LinkedIn Summary) should be buyer-centric.
You have 2600 characters available to emphasize your value to the reader.
At Vengreso we say, "Make your LinkedIn Profile a Resource, not a Resume." And part of making it a resource is making sure you include the right buyer-centric keywords so that your target audience can find you and access your content.
But while LinkedIn SEO optimization is vital, the flow of your LinkedIn About section, the story you tell and the insights you provide, are even more critical. A buyer-centric summary builds positive sentiment and credibility.
7. Add Media to Your Featured and Experience Sections
When adding media to your Featured and Experience sections, make sure to (you guessed it) use keywords in the titles and descriptions.
However, make sure that your title and description accurately represent the added media and aren't just a list of keywords.
Of course, you want to share articles, testimonials, endorsements, white papers, use cases and other media that your reader could find useful,
8. Add Keywords to Your Experience Section
Instead of merely listing your Job Title in your Experience section, add keywords and phrases next to your title. My actual title is Chief Visibility Officer, but my headline is:
CoFounder & Chief Visibility Officer, LinkedIn & Personal Branding Expert | Social Selling Training.
And then don't forget to build out the 2000 characters in your experience section when you write this section. Your Experience read a bit more like a resume. That being said – you still want to focus on your network, how you and your company serve them, and even share an example or two about what you can do for them.
Remember, you want your LinkedIn profile to create value for your professional network.
Instead of merely listing your Job Title in your Experience section, add keywords and phrases next to your title. #LinkedInSEO #SellingWithLinkedIn #PersonalBranding. @LinkedInExpert
Click To Tweet
9. Customize your LinkedIn Personal URL
When you Google "LinkedIn Expert" OR "Viveka von Rosen" my LinkedIn profile is the first link under the paid ads that you are likely to see. I'd have to pay a LOT for that placement or be way better than I am at SEO, to get that kind of visibility if it wasn't for LinkedIn.
You can do the same by replacing the automatic characters assigned by LinkedIn . Personalizing your LinkedIn URL is a simple way to ensure that when people are searching for you, they will find you. A personalized URL is particularly crucial for those with common names. My profile URL is: linkedin.com/in/LinkedInExpert
10. Beef Up Your Profile with Additional Profile Sections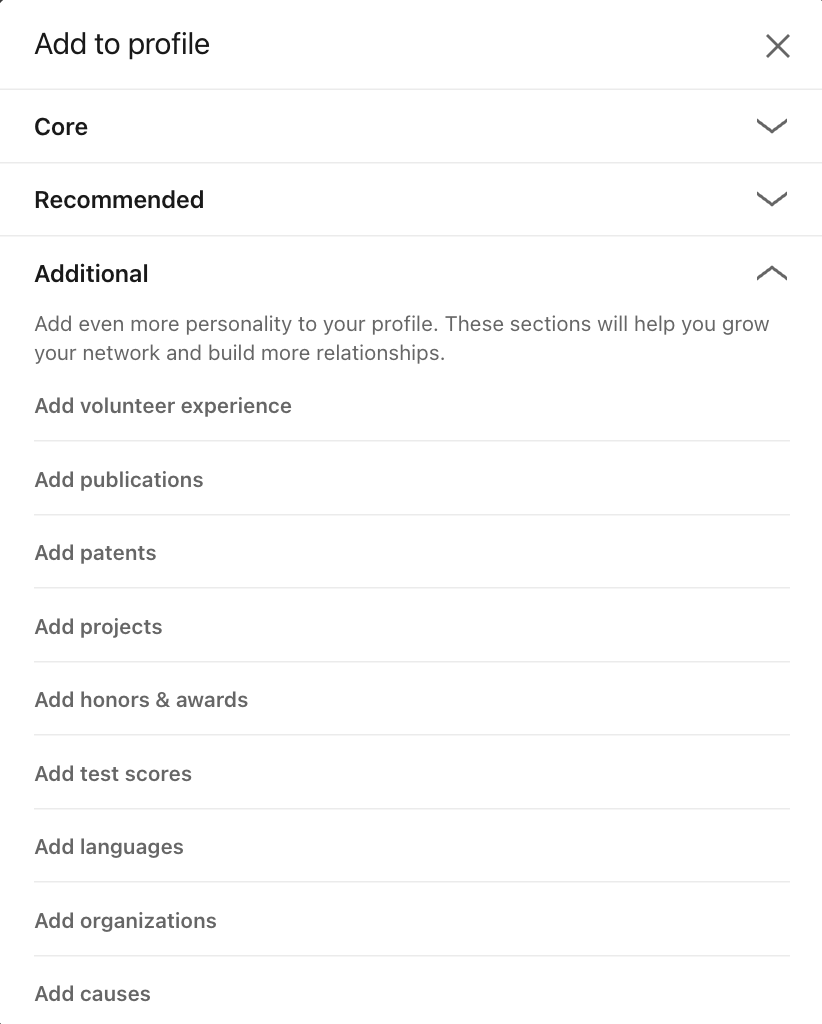 By simply adding more sections to your LinkedIn profile, you can add more keywords and phrases that your buyers are using when they look for your products and services.
For instance, leverage the Accomplishments section of your profile. Here, you can include Publications, Projects, and Organizations that you've been a part of or awards you've won. Some options may include case studies or venture projects.
In many cases, you didn't do these in a silo. So, be sure to tag others. Then you'll show up on their profile and begin to leverage their network in search results.
11. Get Recommendations
Similar to Accomplishments, when someone writes a recommendation that you publish on your profile, you show up on their profile.
While the testimonial alone is powerful, the fact that it can help others find you more easily is a bonus.
12. Build Up Your Skills
This section was designed for recruiters to find candidates with the skills they're looking for. Consequently, having the right keywords and phrases here is essential for maximizing your LinkedIn SEO.
Make sure that your skills are not limited to "customer service," "Leadership" or "Microsoft Office."
Instead, include keywords and phrases that set you apart, such as "Strategic Selling Skills" or "Leadership Development." Then, get your friends, family, and co-workers to endorse you. Because on LinkedIn 's algorithm, size matters.
Using hashtags in your content (Publications, Updates, and videos) can massively increase your visibility. This is a prime opportunity for you to develop your thought leadership in specific topics, appear on searches, and create unique brand-related hashtags.
According to Scott Ayers of Agorapulse Social Media Lab, LinkedIn posts using at least one hashtag received 29.59% higher impressions than posts that had no hashtags.
Consider adding:
1-2 very popular hashtags (you can see how many followers a hashtag has by using LinkedIn's search).
1-2 "niche" hashtags – they might not have many followers – but your niche knows and uses them.
1-2 location-based hashtags (when relevant).
1-2 unique hashtags that only you or your company is likely to use (like #VengresoPics or #VengresoVids). This will help you find your own content and also support employee advocacy if you can get the rest of your company searching for and sharing content with those unique hashtags.
14. Create Native Videos
It's unclear how LinkedIn and Google index native videos from a search engine optimization perspective. However, I do know, based on observations, that native video is being published by LinkedIn heavily—so the better you optimize your title and description, the more likely others will click through and watch. Don't forget to include relevant hashtags!
Here are 15 LinkedIn Profile SEO Tips from the @LinkedInExpert for you to be found by your modern buyers. #SellingWithLinkedIn #DigitalSelling
Click To Tweet
15. Use Keywords in Your LinkedIn Lives
The description section of a LinkedIn Live is a great opportunity to use keywords. You can also use them in your titles and strategy when creating a Live show.
Find one or two Keywords that are "key" to your business (for us it might be "#VengresoLive" or "Social Selling" or "Personal Branding" or "#LinkedInTips") and use that in the name of your show.
Then promote the show every week. Not only will you get great SEO, but you are also likely to go pretty far in positioning yourself as an expert in that field.
Optimizing Your LinkedIn Profile
There are so many more areas to consider when optimizing your LinkedIn Profile, besides your LinkedIn SSI score. Obviously adding keywords to your LinkedIn photo and banner image, adding keywords to your titles and the content in your Experience and About (Summary) sections. Getting endorsements and testimonials that include keywords.
When writing your profile don't overuse the same keywords.
These keyword-stuffing techniques of the past no longer work and will not help with your LinkedIn optimization.
While you should include the most important keywords multiple times, don't forget to include related options as well.
For instance, "Digital Selling" and "Selling with LinkedIn " are variations of "Social Selling" that you can use to help your profile appear on more searches.
To put it simply, leveraging these tips about how to optimize a LinkedIn profile for SEO is just smart marketing.
If you aren't coming up in your buyers' searches, who is? Test it now; does your competition have an edge? Maybe it's time for you to optimize your LinkedIn profile.
Also, be sure to check out these 10 LinkedIn tips that will help you book more sales meetings, grow the sales pipeline and attain quota!
Do your sellers have LinkedIn profiles with buyer-centric messaging that builds credibility? Do you need a LinkedIn Profile Makeover?
Click on the image below to read the Ultimate Guide to LinkedIn Profiles for Sales Professionals to learn how to transform your reps' profiles from resumes to resources.